Best Practice of ITEE in Viet Nam

 ITEC VIETNAM CO.,LTD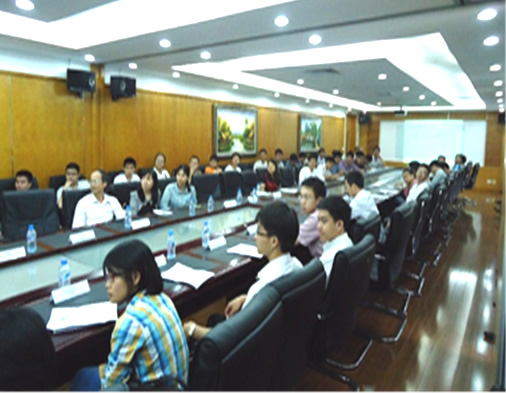 Japanese IT companies' association seminar
In August 2014, ITEC co.,ltd which is Forval Group has established a branch office'ITEC VietNam co., ltd of subsidiary in the group. They promote Information Technology Engineers Examination(ITEE) to offer the educations cultivating Global system engineers and Bridge system engineers that are essential to develop offshore business at Japanese companies.
At the same time, they undertake the education for cultivation highly skilled IT Engineers and also working as an employment agency in Vietnam, by offering the job matching seminar for the passers of ITEE and Japanese companies, working in partnership with Vietnam Training Examination Center(VITEC).
Message from ITEC VietNam co.,ltd
Vietnamese government has set a plan in which the Ministry of Information and Communications plays a central role to increase IT human resources to 1 million people by 2020. ITEC-VN would like to support the education for developing global IT human resources who can active not only in Japan but all over the world through supporting Vietnamese students and System engineers in learning for Information Technology Engineers Examination (ITEE).
In USOL VN - a local company of Nihon UNISYS, the FE examination preparation course has been launched with the participation of 120 SEs in this company to prepare for the examination in this autumn with the support of local lecturers from ITECVN. In other Japanese companies there is also the movement of taking advantage of ITEE to improve IT knowledge and skills.
In addition, we also support the student who passed FE examination to entering Japanese IT companies with a priority basis beginning of NTT DATA VN. We have gotten good comments from several Japanese companies such as "we don't need to conduct an IT skill test in our own company, but we are still able to the adopt high level IT resources base on ITEC VN support."
With a strong cooperation with VITEC, we commit to continuously make effort to contribute to the development of IT human resources in Vietnam through utilizing the Information Technology Engineers Examination (ITEE).